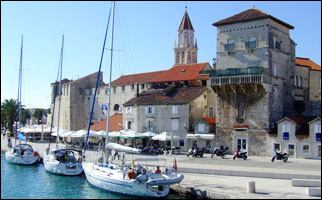 More Trogir
tips and insights

Pedestrian friendly
The site is tailor made for exploring on foot. The islet is compact (you can leisurely walk its length in 15 minutes). And vehicular traffic is minimal (only local cars and trucks with special permits can enter the tourism areas).

History in brief
The ancient Greeks founded the port town in the 3rd Century BC. Later, it was ruled by the Romans, Venetians, Hapsburgs, among other foreign powers. It became a part of Croatia when Yugoslavia broke up in 1991.

Architecture
The monumental buildings parade a variety of architectural styles - especially Romanesque, Baroque and Renaissance.

Comparison with
 Dubrovnik Old Town
Seasoned travelers enjoy comparing the two tourist destinations. Overall, here's how they stack up:

Trogir Old Town has a quieter, more relaxful feel.

It's less touristy. Though it can get busy at times, you won't experience swarms of visitors.

It's less expensive - in both dining and accommodations.

Trogir lacks the good restaurants and outdoor cafes of Dubrovnik.

Ditto for nightlife.

Dubrovnik is a world famous tourist destination, Trogir isn't (though it deserves to be).
See my Dubrovnik web page for my overall tips and insights on that destination.
Learn More

for first Trogir page
Know these Croatia tips and insights
Dubronik
Old Town
Hotel tips
Photo gallery
Other Croatia wonders
Diocletian Palace
Hvar Old Town
Plitvice Lakes
Trogir
More pages
Croatia Wonders - Top 5 rankings
Basic Croatia phrases
Croatian National Tourist Board

World's Top 100 Wonders
World's Top 1000 Wonders
Site map
My credentials
About my website and criteria
Reader testimonials