Amiens Cathedral
Travel tips you can trust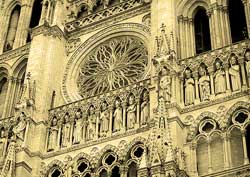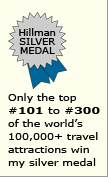 Why
Amiens Cathedral
is special
The 13th century Notre Dame Cathedral of Amiens is widely praised for its size and sculptures - and its unified Gothic style.
Amiens Cathedral
tips and insights

Sizable
It is the tallest of France's grand Nortre Dame cathedrals. The interior ceiling is as high as a modern 14-story building.

Stone sculptures
The Biblical story is prolifically illustrated with stone sculptures on the building's facade and interior spaces, from the Creation to the Last Judgment.

Bell towers
The two bell towers have different heights and somewhat dissimilar designs.

Floor tiles
The main-aisle floor tiles are arranged in a number of large, striking geometric patterns. One has a (non-Nazi) swastika motif. Another is a maze representing the path of a pilgrim.

Saint's head
The Amiens Cathedral houses what worshippers believe is the head of St. John the Baptist.

Construction
In 1218, lightning burned down the Romanesque cathedral that previously stood on the spot. Just two years later, work began on the replacement, the Gothic cathedral we see today. Most of its main components were up in a half-century, which is unusually fast for the Middle Ages.

Location in France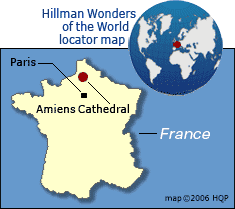 Learn my other
France tips and insights
Wonders of France - Complete list
France wonder map
Best time to visit Paris
Basic French phrases
French cuisine

World's Top 100 Wonders
World's Top 1000 Wonders
Site map
My credentials
About my website and criteria
Reader testimonials