Fountainebleau
Chateau
Travel tips you can trust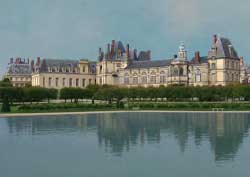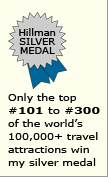 Why
Fontainebleau Chateau
is special
It is a large, sprawling country royal palace with lavishly decorated rooms and a photogenic architectural design.
Fontainebleau Chateau
tips and insights

Must-sees

Inside
Grand (royal) Apartments and the Ballroom

Outside
Horseshoe-shaped staircase and the Gardens

Original function
This wonder was initially a royal hunting lodge in the 12th century. It was built to take advantage of the abundance of game in the surrounding forest.

Evolved
Then, over the centuries, each royal family enlarged or enhanced the Fontainebleau Chateau. However, most of what we see today was the inspiration of the 16th-century King Francois I.

Fountainebleau Forest
Also visit the surrounding forest, a weekend-escape favorite of the Parisians. Activities include hiking, strolling, horseback riding, bicycling, rock climbing, and picnicking.

Near Paris
Fontainebleau Chateau is only 60 kilometers (about 40 miles) from Paris, making it a popular daytrip for tourists.

Location in France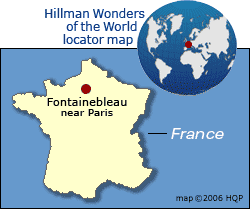 Learn my other
France tips and insights
Wonders of France - Complete list
France wonder map
Best time to visit Paris
Basic French phrases
French cuisine

World's Top 100 Wonders
World's Top 1000 Wonders
Site map
My credentials
About my website and criteria
Reader testimonials