Haut Koenigsbourg
Castle
Travel tips you can trust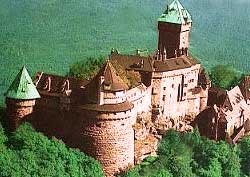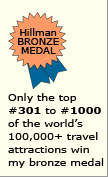 Why
Haut Koenigsbourg Castle
is special
The Haut Koenigsbourg in Alsace gives visitors a basic idea of what medieval castle life was like.
Haut Koenigsbourg Castle
tips and insights

History in brief

Construction
It was built in the 12th century over previous ruins dating back to Roman times.

First fire
It was burned down in the 15th century, but was quickly rebuilt.

Second fire
In 1633 during the 30 Years' War, it was again torched. But this time, Haut Koenigsbourg lay in ruins for centuries before it was rebuilt. This was done starting in 1900 by the German Emperor Wilhelm II.

Controversy
Purists argue that the ruins should have remained untouched because the restoration was insufficiently accurate. Others feel that the reconstruction was accurate enough - and that it was better than having a seldom-seen pile of rubble consumed by the forest.

In fairness
to Kaiser Wilhelm II
He did a quality restoration that introduces castle life to millions of travelers. A tour explores the armory, kitchen, battlements, draw bridges, furnished bedrooms, and more. And, his recreation gives visitors a towering, sweeping view of the vast Alsatian plain. It's breathtaking, if you come on a clear day.

Name
Haut Koenigsbourg translates "High King's Castle" in German.

Location in France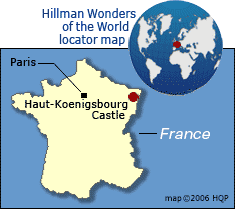 Learn my other
France tips and insights
Wonders of France - Complete list
France wonder map
Best time to visit Paris
Basic French phrases
French cuisine

World's Top 100 Wonders
World's Top 1000 Wonders
Site map
My credentials
About my website and criteria
Reader testimonials