Le Puy-en-Velay
Travel tips you can trust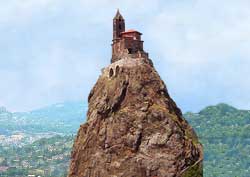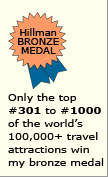 Why
Le Puy-en-Velay
is special
Le Puy-en-Velay is a major pilgrimage town with a dramatic landscape of volcano-core spires.
Le Puy-en-Velay
tips and insights

Setting
A 10th century chapel spectacularly perches on one of the rocky spires (see photo). Visiting it requires climbing over 200 steep, somewhat precarious steps.

The other outcropping
The town's other volcanic outcropping is crowned with a 22-meter (72-foot) high red Madonna statue. There is nothing outstanding about it except for its size and the panoramic view from its platform.

Pilgrimage
Le Puy-en-Velay is the starting point of the popular 1600 kilometer (1000 mile)
walking pilgrimage to Santiago de Compostela in Spain.

Blessing ritual
Participants walk up from the town to Le Puy-en-Velay's 12th century Romanesque cathedral for a blessing that will send them on their arduous journey

Black Virgin statue
The cathedral's main attraction is its Black Virgin statue (the hue developed as the wood aged).

Local products
The area's best known products are locally grown green lentils, hand-made lace, and a digestive liqueur named "Verveine Verte".

Location in France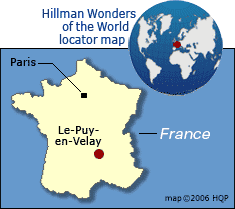 Learn my other
France tips and insights
Wonders of France - Complete list
France wonder map
Best time to visit Paris
Basic French phrases
French cuisine

World's Top 100 Wonders
World's Top 1000 Wonders
Site map
My credentials
About my website and criteria
Reader testimonials