Nimes Amphitheatre
Travel tips you can trust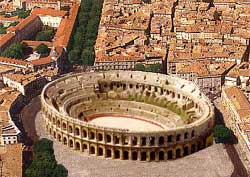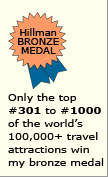 Why the
Nimes Amphitheatre
is special
The elliptical Nimes Amphitheatre is in amazingly fine condition considering its 2,000-year age.
Nimes Amphitheatre
tips and insights

In Roman times
Over 20,000 people would fill the seats to watch gladiator fights, animal hunts, and other crowd-pleasing spectaculars.

Today
The wonder still pulses. Events include concerts, circuses and bull fights (mainly bloodless). And, it's covered and heated in the winter.

Awning
The Nimes Amphitheatre in its Roman days could be covered with a vast canvas canopy to shade the viewers from the sun and rain. In our current era, it also sports a temporary cover, but it's used only in the winter.

Crowd-flow
The architects designed an intricate corridor system that allowed spectators to reach their seats (and later exit the arena) within 4 or 5 minutes. Crowd-flow in modern arenas pales by comparison.

Nearby wonders
The Nimes Amphitheatre is an easy walk from another Hillman Wonder medal winner, the
Maison Carree.

Location in France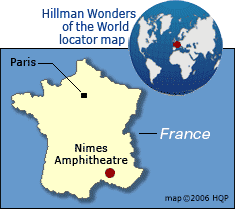 Learn my other
France tips and insights
Wonders of France - Complete list
France wonder map
Best time to visit Paris
Basic French phrases
French cuisine

World's Top 100 Wonders
World's Top 1000 Wonders
Site map
My credentials
About my website and criteria
Reader testimonials