Opera Garnier
Travel tips you can trust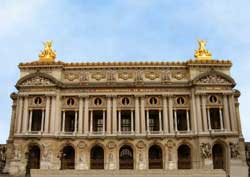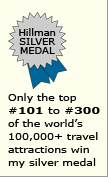 Why the
Opera Garnier
is special
Its Baroque exterior and interior are stunning. And, it has an interesting herit
Opera Garnier
tips and insights

Name
The venue was known simply as the Paris Opera House when it opened in 1875. This continued until 1989 when Parisians began calling it Opera Garnier (named for its architect) to distinguish it from the new modern Opera Bastille house which opened across town.

Visual and
historical appeal
The strikingly modern Opera Bastille is now the home of the principal opera company of Paris. It's an appealing building, but does not quite merit one of my bronze wonder medals. The Opera Garnier is more visually and historically interesting.

Opera Garnier's
current function
It is now typically used for ballet and visiting opera companies. It seats about 2,000 people.

Phantom of the Opera
No doubt the fictional opera house depicted in the 1910 Phantom of the Opera book (and in the ensuing films and musical) is a roman a clef of the real-life Opera Garnier. Yes, there are resemblances. For example, the building has many subterranean chambers and one is flooded with water.

Tours
Public tours are available except during performances. They include the ceremonial grand staircase and the opulent red-and-white, multi-tiered auditorium, but not the Phantom's underground watery retreat.

Location in France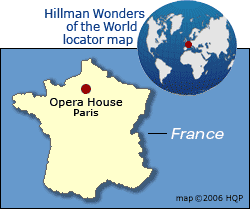 Learn my other
France tips and insights
Wonders of France - Complete list
France wonder map
Best time to visit Paris
Basic French phrases
French cuisine

World's Top 100 Wonders
World's Top 1000 Wonders
Site map
My credentials
About my website and criteria
Reader testimonials