Pont du Gard
Travel tips you can trust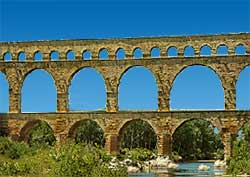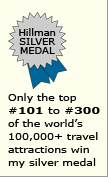 Why
Pont du Gard
is special
The 49 meters (160 feet) high Pont de Gard viaduct is an architectural marvel and is in remarkable condition for its age. It has been standing for almost 2,000 years.
Pont du Gard
tips and insights

Construction
The enduring strength of the Pont du Gard is due in part to the colossal stones used in its construction. Yet, this arched bridge appears surprisingly delicate, thanks to the Roman architect's well-proportioned triple tier design.

Part of
a grand aqueduct
The Pont du Gard was just one segment of a 50-kilometer (30-mile) long aqueduct built to provide needed water to the city of Nimes.

Survivor
Most of that aqueduct system gradually vanished through the centuries but its best part - the Pont du Gard - is fortunately still around.

Vehicle crossings
now prohibited
I enjoyed the experience of driving my car across this two-millennium old aqueduct. This was when crossings were minimal. Today, cars have grown so much in size, weight and count that vehicular crossings are no longer allowed.

When to come
The Pont du Gard draws tourists galore. Avoid crowds by arriving early or late in the day.

Location in France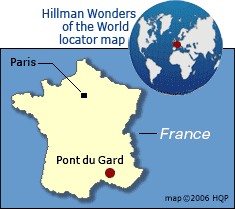 Learn my other
France tips and insights
Wonders of France - Complete list
France wonder map
Best time to visit Paris
Basic French phrases
French cuisine

World's Top 100 Wonders
World's Top 1000 Wonders
Site map
My credentials
About my website and criteria
Reader testimonials