Reims Cathedral
Travel tips you can trust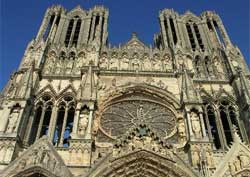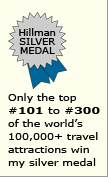 XXWhy the
Reims Cathedral
is special
The 13th century Notre Dame Cathedral of of Reims is not only a splendid illustration of High Gothic architecture, it has an extraordinary history.
Reims Cathedral
tips and insights

Historic site
No fewer than 25 kings were crowned in the Reims Cathedral over a stretch of six centuries, beginning in 1223. Earlier, in 496, it was the site of the coronation of Clovis, France's first king.

Misfortunes
The Reims Cathedral interior was devastated during the French Revolution. Then, during World War I, the building was severely damaged by shellfire - and wasn't ready to be reopened for two decades.

Marc Chagal
The famous painter Marc Chagal created some of the stained glass window replacements.

More pointers

Its three statue-adorned portals are its greatest architectural glory.

The Reims Cathedral is even more ornate that its older brother in Amiens.

The nearby Tau Palace serves as the museum for this house of worship. It is worth a visit.

Location in France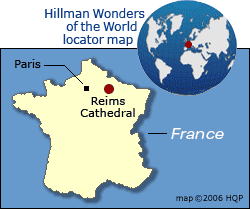 Learn my other
France tips and insights
Wonders of France - Complete list
France wonder map
Best time to visit Paris
Basic French phrases
French cuisine

World's Top 100 Wonders
World's Top 1000 Wonders
Site map
My credentials
About my website and criteria
Reader testimonials