Best
Galapagos Islands
Runners-up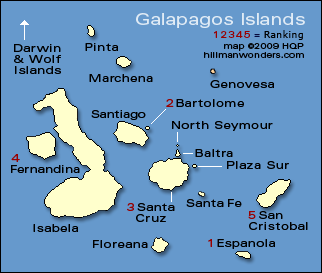 The runners-up
These didn't quite make my best 5 list, but they are commendable. List is alphabetical.

Darwin & Wolf Islands
Great scuba diving destinations. The area is off limits to non-divers. And no visitor - even divers - may step foot on the land.

Floreana
Its history includes a wild self-castaway, a floating post office barrel, an era of pirates and convicts, and the scandalous 1930's "Galapagos Affair". Punta Cormorant is the best visitor site. Just offshore from it is Devil's Crown - snorkelers adore it.

Isabela
This is the largest Galapagos island (about 125 kilometers or 80 miles long) and has the highest peak in the Galapagos. Isabela was formed by six volcanoes and their overlapping lava flows. Some visitor sites have volcano trails.

Genovesa
If you're in a small boat, you can sail into and anchor in a sea-breached, semi-submerged caldera. Darwin Bay and Prince Philip landing are good visitor sites. Genovesa has red-footed boobies.

Santiago
It has a scenic anchorage and landscape with several visitor sites: Sullivan Bay (for whirl-patterned lava field), Buccaneer Cove, and Puerto Egas (aka James Bay).

Seymour Norte
This small, flat island has highly visible blue-footed boobies, frigatebirds, sea lions, and both marine and land iguanas.
Well-known islands
with serious drawbacks

Baltra
Its airport puts Baltra on the visitor's map. There's not much to see or do except shop at the airport's handicraft and souvenir stands.

Plaza Sur
A prolific colony of sea lions reside here. But sometimes day-trippers from Santa Cruz Island come in large numbers, ruining the ambiance.

Santa Fe
Snorkelers and birders like it. It's midway between Puerto Ayora on Santa Cruz and Puerto Baquerizo on San Cristobal, meaning a potential abundance of day-trippers.
Other rankings
Click FIRST PAGE for island rankings #



Click PAGE TWO for island rankings #






Best Galapagos ships by category
Boat type - pros & cons
Itinerary tips
Cost and booking tips

Best time to go
Getting there tips
Packing tips
Snorkeling tips
Diving tips
Some more helpful tips

Top 5 land & shore wildlife
Top 5 birds
Top 5 marine life

Charles Darwin - Brief bio
Interesting Galapagos facts
Celebrity Xpedition

World's Top 100 Wonders
World's Top 1000 Wonders
Site map
My credentials
About my website and criteria
Reader testimonials