Celebrity Xpedition
fact sheet
Galapagos Islands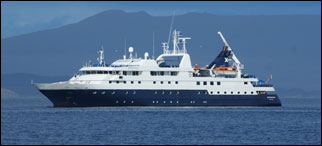 Celebrity Xpedition
basic statistics

Average islands visited
10

Typical cruise
Time: 8 days (7 nights)
Length: 1,000 kilometers (700 miles)

Cruising speed
31 km per hour (20 miles per hour)

Ship length
90 meters (296 feet)

Width
13 meters (43 feet)

Displacement
2842 tons

Decks
6

Cabins
46

Passengers
92

Crew
66

Passenger-per-crew ratio
1.4

Celebrity Xpedition history
The ship was built in 2001 in Germany as a cruise ship for the German Tour Company. It was christened "Sun Bay".
Celebrity Cruises purchased the ship, and did major renovating and refurbishing, and renamed the vessel the "Xpedition". It was put in service in the Galapagos Islands in 2004.

Celebrity Cruises
It is one of the world's prestige cruise lines and has ten cruise ships. The line is part of the Royal Caribbean Cruises family of cruise lines, which includes Azamara and Royal Caribbean International.



Best Galapagos ships by category
Boat type - pros & cons
Itinerary tips
Cost and booking tips

Best time to go
Getting there tips
Packing tips
Snorkeling tips
Diving tips
Some more helpful tips

Top 5 land & shore wildlife
Top 5 birds
Top 5 marine life

Charles Darwin - Brief bio
Interesting Galapagos facts
Celebrity Xpedition

World's Top 100 Wonders
World's Top 1000 Wonders
Site map
My credentials
About my website and criteria
Reader testimonials