Best Kauai
shore excursions
Cruise tips you can trust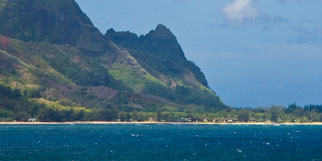 Best 2
Kauai shore excursions

Na Pali Coast
High, rugged, verdant seacliffs rise majestically out of the sea. They are wild and isolated. There are three basic ways to view the cliffs.

By boat
Cruisers are lucky. You don't have to buy tickets on a Na Pali Coast sightseeing boat. Your cruise ship sails close to this natural wonder.

By air
To fully appreciate the cliffs, you have to take a sightseeing airplane or (preferably) helicopter. As a bonus, you also see Waimea Canyon from a bird's eye view.

On foot
You hike up the Waimea Canyon trails to the summit, then walk down the steep, narrow, and (to many) scary Kalalau Trail to one of the Na Pali Coast beaches. Since you'll need to backpack overnight, you must do this hike as a pre- or post-cruise adventure.

Waimea Canyon
It's nicknamed "The Grand Canyon of the Pacific" for good reason.

Huge
It measures about 1100 meters (3,600 feet) deep and 16 kilometers (10 miles) long.

Scenic lookouts
They are strategically located along the canyon's winding, scenic road. The star is end-of-the-road Pu'u Kila lookout. You look down on the stunning Na Pali Coast.

Attire
Dress in layers. It can be chilly at the higher lookouts.

Weather
Pray for a sunny day. Rain and low-hanging clouds dull the colors and, sometimes, veil the view.
More Kauai
tips & insights

Rainiest place on earth
An average of 12 meters (40 feet) per of rain per year falls on Mt. Waialeale.

Outdoor movie set
The striking beauty of Kauai has not been lost on Hollywood. Major films like Jurassic Park and South Pacific were shot here.

Best shore excursions on ...
Big Island
Kauai
Maui
Molokai
Oahu
Other helpful pages
Best Hawaiian cruise lines
Best itinerary options
Interesting facts
Tips & insights
Hawaiia Tourism Authority / Tor Johnson
Hawaii Visitors & Convention Bureau

World's Top 100 Wonders
World's Top 1000 Wonders
Site map
My credentials
About my website and criteria
Reader testimonials