Brihadisvara Temple
Travel tips you can trust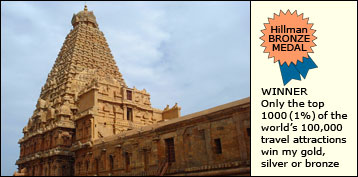 Why
Brihadisvara Temple
in Tamil Nadu State
is special
Of India's many acclaimed temples, this is one of the biggest and most significant.
Top attraction of
the Brihadisvara Temple

Vimana
This temple tower (see left side of photo) soars 66 meters (217 feet) and is crowned with a striking bulbous cupola.
More
Brihadisvara Temple
tips & insights

History in brief
It is dedicated to the Hindu god Shiva and was conceived by Rajaraja Chola, the most celebrated ruler of the powerful Chola Dynasty that ruled southern India up until the 13th century.
He took a great personal interest in helping choose the architectural and decorative designs. He was able to see his masterpiece completed in 1010, several years before he died.
Brihadisvara Temple recently (2010) celebrated its 1,000th birthday.

Granite
The structure was built mainly with humongous granite blocks weighing up to 80 tons. Because there were no suitable local granite sources, the blocks had to be quarried and transported from afar. Moreover, these heavy, cumbersome masses were somehow lifted into place with engineering equipment and techniques that would seem to have been inadequate in south India at the time.

Location in India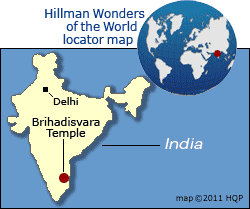 Wonders of India - Top 10 rankings
Basic Hindi phrases for travelers
Indian cuisine
Flying to India
World's Top 100 Wonders
World's Top 1000 Wonders
Site map
My credentials
About my website and criteria
Reader testimonials

World's Top 100 Wonders
World's Top 1000 Wonders
Site map
My credentials
About my website and criteria
Reader testimonials