Flying to India
Travel tips you can trust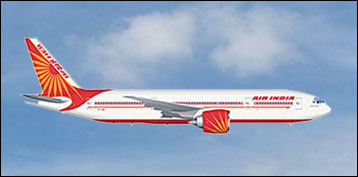 Easy to reach
More than two dozen major international airlines fly to India.
One of them, Air India (see photo), delivers some benefits that other airlines do not. It operates the most international flights to India. Most of those flights are nonstop or direct. Its fares are generally lower than the competition. It operates domestic flights in India, which simplifies connection bookings. It has ticket offices in 20 Indian cities should the need arises to change your travel plans. Its India-themed onboard service and food begin your Indian vacation when the plane takes off.
Other quality airlines serving India include Air Canada, Air France, American, British Airways, Delta, KLM, Lufthansa, Swiss, United, and Virgin Atlantic.
Why an Indian vacation
is a better bargain than
many North Americans think
True, your America to India airfare will be higher than an America to Europe airfare because India is farther away.
However, your overall vacation costs will be lower if you vacation in India instead of Europe. Reason: your travel expenses will be about 50% lower once you land in India.
For example, hotel rates for all hotel classes (including some of the five-star ones) are typically about 50% lower in India than their European equivalents. And, as a bonus, you enjoy the celebrated hospitality of Indian hotels.
Nearly all your other major expenses, including meals, sightseeing, and domestic transportation are about half those what your wallet will experience in an European vacation.
So when you add up the above mentioned cost savings, it becomes clear that an Indian vacation will cost you less than an European one, despite the higher airfares.

Wonders of India - Top 10 rankings
Basic Hindi phrases for travelers
Indian cuisine
Flying to India
World's Top 100 Wonders
World's Top 1000 Wonders
Site map
My credentials
About my website and criteria
Reader testimonials

World's Top 100 Wonders
World's Top 1000 Wonders
Site map
My credentials
About my website and criteria
Reader testimonials