Indian food
Food tips you can trust

What is
Indian cuisine?
Indian cuisine is not a single cuisine but a collection of differing regional cuisines, each its own distinct Indian food.
To know Indian food, you need to know its regional cuisines.
The 6 most famous
regional cuisines
of India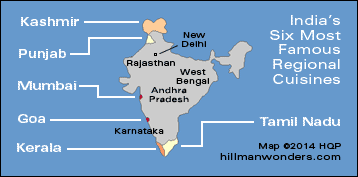 Click blue links to learn their tips and insights
Mumbai
Kashmir
Goa
Kerala
Punjab
Tamil Nadu
Runners-up

North versus South

What are the
major differences
among regional Indian foods?

Northern vs Southern
India's hottest cuisine

Which Indian food region
wins this honor?

Runners-up
India's top gourmet city

Can you name it?

Mumbai - Page 2
"Meat is very popular"

In which region is this
particularly true?

Kashmir - Page 2
Pork Vindaloo

Is the famous Indian
food specialty spicy or mild?

Goa
Tikka Murg

In what type of oven is
this popular food cooked?

Punjab
Palm Toddy

Is Kerala's well-known
drink alcoholic?

Kerala
Bombay Duck

Is this renowned dish
made with duck? If not,
with what?

Mumbai
Masala Dosa

Can you describe this
acclaimed specialty ?

Tamil Nadu
Roghan Josh

How is this celebrated
specialty made?

Kashmir
Lassi

How is this celebrated
specialty made?

Kashmir

Rankings
Peasant recipes
World wonders
Also read
Site map
About me and my credentials
About my website
Reader testimonials
Email me your opinion