Kashmir Food
Food tips you can trust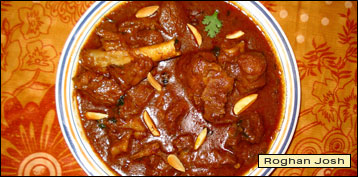 Why the cuisine of
Kashmir is special
It is the home of the elaborate wazwan wedding feast - and complexly seasoned dishes like Roghan Josh.
Famous Kashmir
food specialties

Wazan -
The Kashmiri wedding feast
I had the good fortune to experience a wazwan. It takes a day or longer to prepare the dozens of distinct dishes (mostly meat based) for up to hundreds of guests.
Groups of four diners each sit on the floor and eat with their fingers. The foursome shares the food on a large communal platter called a trami, which holds meats set around a heaping mound of rice. Several rounds of meat dishes are served, each different. The traditional final meat is the Gustaba, a tennis ball-sized meatball made from spicy, well-pounded lamb.

Roghan Josh
The most celebrated dish of Kashmir. Mutton chunks become tender and acquire a glistening thick reddish coating as they are braised for hours in a curried liquid rich in yogurt, almonds, chili, and toasted spices.


Yakhni
Gently cooked lamb stew flavored with sweet (not hot) spices.

Tabak Maz
Baby lamb ribs slowly cooked till crispy.
Learn More

for next Kashmir Food page
Learn my Indian Cuisine tips
and insights on these pages
Click blue links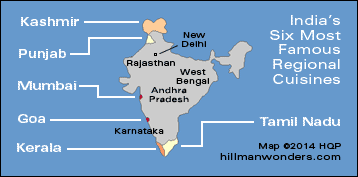 India's 6 most famous
regional cuisines
Mumbai
Kashmir
Goa
Kerala
Punjab
Tamil Nadu
Runners-up
Related pages
North vs South Indian cuisines
Indian food - Home Page
Top 10 Travel Wonders of India

Rankings
Peasant recipes
World wonders
Also read
Site map
About me and my credentials
About my website
Reader testimonials
Email me your opinion