Roghan Josh
recipe
peasant dish of India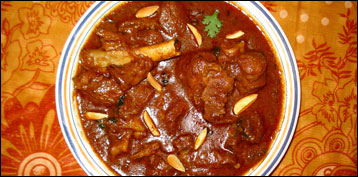 Roghan Josh
ingredients
Servings: 4

Lean leg of lamb
700 grams or 1 1/2 pounds cut into
3 centimeter or 1 1/4 inch cubes

Whole milk yogurt
12 centiliters or 1/2 cup

Crushed saffron
1 milliliter or 1/4 teaspoon

Water
30 milliliters or 2 tablespoons

Blanched almonds
Coarsely chopped.
8 centiliters or 1/3 cup

Cardamom
Seeds of 1 pod

Cumin seeds
2 milliliters or 1/2 teaspoon

Coriander seeds
2 milliliters or 1/2 teaspoon

Ghee (or clarified butter)
50 milliliters or 3 tablespoons

Chopped white onions
8 centiliters or 1/3 cup

Minced garlic
5 milliliters or 1 teaspoon

Minced fresh ginger
15 milliliters or 1 tablespoon

Chopped chili pepper
50 milliliters or 3 tablespoons

Ground turmeric
1 milliliter or 1/4 teaspoon

Salt
2 milliliters or 1/2 teaspoon

Chopped coriander leaves
6 centiliters or 1/4 cup
Roghan Josh
cooking steps

Marinate the lamb in the yogurt in a noncorrosible bowl overnight in the refrigerator.

Remove the marinating lamb from the refrigerator 1 hour before beginning step 4.

Preheat the oven to 200°C or 400°F.

Soak the saffron in the water.

Spread the almonds and the cardamom, cumin, and coriander seeds on an oven-proof plate. Bake them in the oven for 10 minutes. (This process enhances their flavor.)

Heat the ghee in a large, heavy bottomed sauté pan or skillet.

Sauté the onions for 2 minutes over low heat, stirring frequently. Add the garlic and ginger. Sauté the mixture for 1 minute, stirring frequently.

Stir in the lamb and its marinade, as well as the saffron and its soaking water. Also stir in the chili pepper, turmeric, salt, and the almonds and spices from step 5.

Cover the pan. Cook the preparation for 1 1/4 hours over low heat, stirring every 15 minutes.

Remove the cover and cook the preparation for 30 minutes, or until the sauce has slightly reduced and thickened. Stir frequently.

Add the coriander leaves. Stir the mixture for 10 seconds. Serve immediately.





Famous peasant dishes
Arroz Con Pollo Spain
Cassoulet France
Cha Chiang Mein China
Couscous Morocco
Houskove Knedliky Czech Republic
Huevos Rancheros Mexico
Nasi Goreng Indonesia
Osso Buco Italy
Oyako Donburi Japan
Roghan Josh India
Tom Yam Kung Thailand
Vatapa Brazil
Yalanci Dolma Turkey
Peasant cuisine home page
Be peasant cuisine savvy
Be world cuisine savvy
World wonders
More
Site map
About my credentials & website
Reader testimonials
Email me your opinion