Cassoulet
recipe
peasant dish of France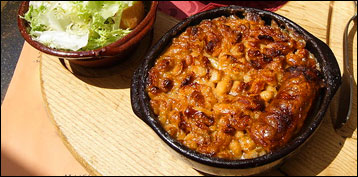 Arroz Con Pollo
ingredients
Servings: 4

Chicken drumsticks & thighs
1 1/2 kilograms or 3 pounds

Water
6 deciliters or 2 1/2 cups

Dry white wine
12 centiliters or 1/2 cup

Salt
4 milliliters or 3/4 teaspoon

Bay leaf
1 medium sized

Olive oil
60 milliliters or 4 tablespoons

Long-grain white rice
35 centiliters or 1 1/2 cups

Chopped white onions
20 centiliters or 3/4 cup

Diced Italian sweet pepper
12 centiliters or 1/2 cup

Minced garlic
15 milliliters or 1 tablespoon

Diced tomatoes
12 centiliters or 1/2 cup

Lemon juice
15 milliliters or 1 tablespoon

Crushed saffron
2 milliliters or 1/2 teaspoon

Chopped fresh parsley
30 milliliters or 2 tablespoons
Arroz Con Pollo
cooking steps

Remove the chicken from the refrigerator 45 minutes before beginning step 2.

Bring the water and wine to a boil in a 3 or 4 liter (3 or 4 quart) saucepan.

Add to the liquid the salt, bay leaf, and chicken drumsticks. Bring the mixture to a simmer. Cover the pot and gently simmer for 3 minutes.

Add the chicken thighs. Bring the mixture to a simmer. Cover and gently simmer for 10 minutes, turning the pieces after 5 minutes.

Transfer the chicken with a slotted spoon to several layers of paper towels and pat dry. Reserve the stock in the pan over low heat.

Heat the oil in a shallow casserole measuring at least 30 centimeters or 12 inches in diameter (or in a paella pan).

Brown the chicken pieces on all sides in the hot oil over moderate heat. (Brown in batches if necessary.)

Transfer the chicken to a warm bowl and cover it.

Add the rice to the casserole. Sauté it for 5 minutes, stirring frequently.

Reduce the heat to low to moderate. Add the onions and sauté them for 2 minutes. Add the Italian pepper and the garlic and sauté them for 1 minute. Stir constantly.

Add the tomatoes and lemon juice. Stir the mixture.

Strain the reserved chicken stock and add 5 deciliters or 2 cups of it to the casserole.

Add the saffron. Stir the mixture for 1 minute.

Arrange the chicken pieces on top of the rice. Bring the liquid to a simmer. Cover the pot and gently simmer for 15 to 20 minutes, until the rice has absorbed all the liquid.

Let the covered pot stand off the heat for 5 minutes.

Sprinkle the Arroz Con Pollo with the parsley. Serve it at the table from the casserole.





Famous peasant dishes
Arroz Con Pollo Spain
Cassoulet France
Cha Chiang Mein China
Couscous Morocco
Houskove Knedliky Czech Republic
Huevos Rancheros Mexico
Nasi Goreng Indonesia
Osso Buco Italy
Oyako Donburi Japan
Roghan Josh India
Tom Yam Kung Thailand
Vatapa Brazil
Yalanci Dolma Turkey
Peasant cuisine home page
Be peasant cuisine savvy
Be world cuisine savvy
World wonders
More
Site map
About my credentials & website
Reader testimonials
Email me your opinion