Cha Chiang Mein
recipe
peasant dish of China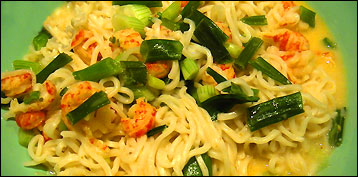 Cha Chiang Mein
ingredients
Servings: 4

Ground lean pork (or tiny shrimp)
300 grams or 2/3 pound

Sesame oil
30 milliliters or 2 tablespoons

Oriental dried egg noodles
300 grams or 2/3 pound

Peanut (or other veg.) oil
30 milliliters or 2 tablespoons

Coarsely minced garlic
5 milliliters or 1 teaspoon

Thickly sliced scallions
3 tablespoons

Coarsely minced fresh ginger
50 milliliters or 3 tablespoons

Minced fermented black beans
15 milliliters or 1 tablespoon

Soy sauce
20 milliliters or 4 teaspoons

Rice (or wine) vinegar
30 milliliters or 2 tablespoons

Unseasoned chicken stock
6 centiliters or 1/4 cup
Cha Chiang Mein
cooking steps

Bring the pork to room temperature. Bring 1 liter or 4 quarts of water and the sesame oil to a rolling boil in a 1 1/2 liter or 6 quart pot over high heat.

Add the egg noodles to the boiling water and cook them for 3 minutes, or according to package directions. Drain the noodles and transfer them to a warm bowl of sufficient size to accommodate the tossing task described in step 7. Cover bowl and reserve for step 7.

Heat the peanut oil in a wok over moderate heat.

Add the pork and stir-fry the preparation for 3 minutes, breaking up the lumps as you cook the meat.

Add the garlic, scallions, ginger, and black beans, and stir-fry the ingredients for 1 minute.

Pour the soy sauce, vinegar, and chicken stock into the meat mixture. Cook it for 3 minutes, stirring frequently.

Spoon the pork sauce over the noodles. Toss the ingredients before transferring them to individual bowls or plates, and serve immediately.



Photo by Cyclonebill - CC BY-SA 2.0


Famous peasant dishes
Arroz Con Pollo Spain
Cassoulet France
Cha Chiang Mein China
Couscous Morocco
Houskove Knedliky Czech Republic
Huevos Rancheros Mexico
Nasi Goreng Indonesia
Osso Buco Italy
Oyako Donburi Japan
Roghan Josh India
Tom Yam Kung Thailand
Vatapa Brazil
Yalanci Dolma Turkey
Peasant cuisine home page
Be peasant cuisine savvy
Be world cuisine savvy
World wonders
More
Site map
About my credentials & website
Reader testimonials
Email me your opinion