Vatapa
peasant dish of Brazil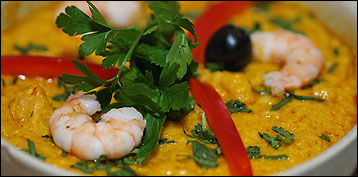 Vatapa
ingredients
Servings: 4

Dried shrimp
100 grams or 1/4 pound

Halibut
Or other firm-fleshed, non-oily fish.
700 grams or 1 1/2 pounds

Coconut milk
5 deciliters or 2 cups

Dende (palm nut) oil
30 milliliters or 2 tablespoons

Chopped onions
12 centiliters or 1/2 cup

Minced garlic
15 milliliters or 1 tablespoon

Water
5 deciliters or 2 cups

Bay leaf
1 medium sized

Chopped fresh chili peppers
6 centiliters or 1/4 cup

Salt
5 milliliters or 1 teaspoon

Peanuts
Freshly ground unsalted, shelled, skinned and roasted.
8 centiliters or 1/3 cup

Fine-grained cornmeal
6 centiliters or 1/4 cup
Vatapa
cooking steps

Chop the shrimp in a food processor or electric blender.

Bone and skin the fish. Discard the skin. Reserve the bones for step 3. Cut the fish into 2 1/2 centimeter (1 inch) cubes and reserve them for step 8.

Add the shrimp, coconut milk, and fish bones to a thick-bottomed 1 1/2 to 2 liter (1 1/2 to 2 quart) saucepan. Bring the mixture to a simmer, stirring occasionally. Simmer the mixture for 30 minutes, stirring now and then.

Heat the oil in a thick-bottomed 2 to 3 liter (1 to 3 quart) saucepan over low to moderate heat. Sauté the onions for 2 minutes, stirring frequently. Add the garlic and sauté this mixture for 1 minute, stirring constantly.

Stir 4 deciliters (1 3/4 cups) of the water into the onion-garlic mixture. Stir in the bay leaf, chili peppers, salt, and peanuts. Bring the mixture to a simmer and cook it for 10 minutes.

Discard the bay leaf from the onion-garlic preparation. Strain into this preparation the shrimp coconut mixture. Simmer the combination for 5 minutes.

Soak the cornmeal in the remaining 6 centiliters or 1/4 cup water for 5 minutes. Slowly stir the moist cornmeal into the pot. Simmer the mixture for 5 minutes, stirring occasionally.

Add the fish cubes to the pot. Thoroughly submerge them and gently cook the preparation over low heat for 5 to 7 minutes, stirring occasionally and very gently. Serve the Vatapa immediately.



Photo by Elingunnur - CC BY 3.0


Famous peasant dishes
Arroz Con Pollo Spain
Cassoulet France
Cha Chiang Mein China
Couscous Morocco
Houskove Knedliky Czech Republic
Huevos Rancheros Mexico
Nasi Goreng Indonesia
Osso Buco Italy
Oyako Donburi Japan
Roghan Josh India
Tom Yam Kung Thailand
Vatapa Brazil
Yalanci Dolma Turkey
Peasant cuisine home page
Be peasant cuisine savvy
Be world cuisine savvy
World wonders
More
Site map
About my credentials & website
Reader testimonials
Email me your opinion