Kerala Food
Food tips you can trust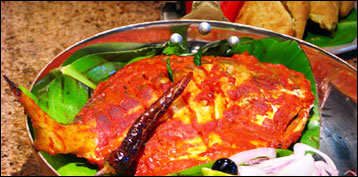 Why
Kerala food
is special
Kerala is widely praised for flavorful fish and prawns freshly caught along its tropical palm-fringed sea coast.
Famous
Kerala food
specialties

Fish Curry
This simple name doesn't do justice to Kerala's version made with the excellent local pomfret fish or the tuna-like seerfish netted in the ocean the same day the cook prepares it.

Fish Mollee
Cooked in a coconut milk-based broth. It's best when made with the commendable freshwater kerimeen (pearl spot) fish, caught daily in Kerala's beautiful tropical backwaters.

Grilled Keralan prawns
These rich flavored crustaceans deserve their premium price.

Appam
A spongy, soft stringy textured rice bread, similar to the idiappam of Karnataka. It's perfect for sopping up Kerala's savory sauces.

Palm Toddy
A potent local juice ranging in alcoholic strength from sweet-weak to sour-strong.
More
Kerala food
tips & insights

Coconut
It is widely used in Kerala cooking (Kerala means "coconut" in the local language).

Spices
They are freely used (Kerala is on the fabled Malabar Coast, known for millennia by spice traders).

Kerala's inland waterways
Not only are they a rich source of fish, the tropical inland waterways of Kerala boast some of the world's most serenely beautiful vistas.
Learn my Indian Cuisine tips
and insights on these pages
Click blue links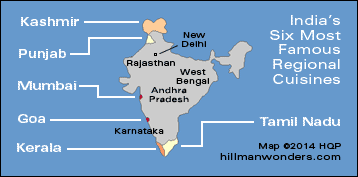 India's 6 most famous
regional cuisines
Mumbai
Kashmir
Goa
Kerala
Punjab
Tamil Nadu
Runners-up
Related pages
North vs South Indian cuisines
Indian food - Home Page
Top 10 Travel Wonders of India
Photo by Kspoddar - CC BY 2.0

Rankings
Peasant recipes
World wonders
Also read
Site map
About me and my credentials
About my website
Reader testimonials
Email me your opinion