Mumbai food
Food tips you can trust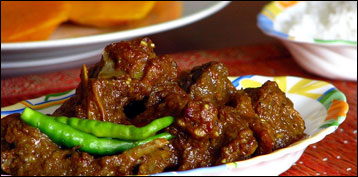 Famous
Mumbai food
specialties

Dhan Sak
The Parsis of old prepared this rich (dhan means "wealth") dish with a mixture of mutton, tripe, several kinds of lentils, and many vegetables. Dhan Sak is traditional for celebrations and family gatherings.

Khicheri
A plain dish of rice and lentils, always accessible to the poor, the ill, and the homesick Indian abroad.

Min Vela Curry
A mixed-fish curry (pomfret, mullet, and mackerel are popular) with spices, tamarind, and coconut.

Bhel Puri
A very popular food sold by street vendors. Eaters use a small puffed bread to scoop up a sauce or chutney.

Bombay Duck
Although this dried fish preparation is world famous, it is more beloved by Anglo-Indians than by Indians.
Learn More

for next Mumbai Food page
Learn my Indian Cuisine tips
and insights on these pages
Click blue links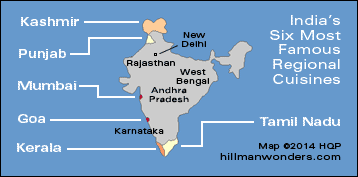 India's 6 most famous
regional cuisines
Mumbai
Kashmir
Goa
Kerala
Punjab
Tamil Nadu
Runners-up
Related pages
North vs South Indian cuisines
Indian food - Home Page
Top 10 Travel Wonders of India
Photo by Kirti Poddar - CC BY 2.0

Rankings
Peasant recipes
World wonders
Also read
Site map
About me and my credentials
About my website
Reader testimonials
Email me your opinion