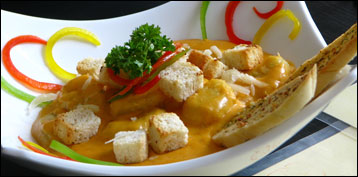 More
Mumbai food
insights

If you could visit
only one Indian city
for its food
Let it be Mumbai, the country's most cosmopolitan city. What makes it particularly enticing is you can enjoy in its restaurants many of the top local specialties from India's other cuisine areas. And, although Mumbai has borrowed many dishes from other regions, it does have some interesting specialties of its own. And some have modish presentations (see photo).

Culinary geography
It straddles India's north-south culinary border. This means, for instance, that Mumbai residents readily eat both rice and wheat bread.

Historical influences
Mumbai's food has been influenced by the rich but not too spicy styles of cooking from the surrounding Maharashtra and Gujarat regions. Another major influence is the Parsis, Zoroastrians who migrated in the 8th century.
Learn More

for first Mumbai Food page
Learn my Indian Cuisine tips
and insights on these pages
Click blue links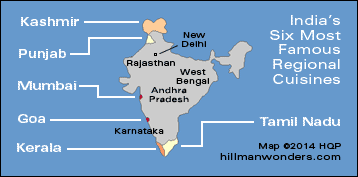 India's 6 most famous
regional cuisines
Mumbai
Kashmir
Goa
Kerala
Punjab
Tamil Nadu
Runners-up
Related pages
North vs South Indian cuisines
Indian food - Home Page
Top 10 Travel Wonders of India
Photo by Kirti Poddar - CC BY 2.0

Rankings
Peasant recipes
World wonders
Also read
Site map
About me and my credentials
About my website
Reader testimonials
Email me your opinion