Best
Regional Indian Food
runners-up
Food tips you can trust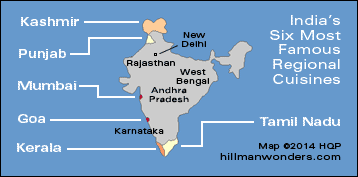 Five more
well-known
Indian food areas
Listed in black on map.

Andhra Pradesh (state)
Wins the "Hottest Cuisine in India" title.

Karnataka (state)
Has India's second highest percentage of vegetarians (after Tamil Nadu).

New Delhi (city)
Its core Indian cuisine is a fusion of Persian, Punjab and Mughal cooking.

Rajasthan (state)
Some foreigners think it has a great cuisine (it doesn't), perhaps because Rajasthan has facinating travel attractions and a fascinating history.

West Bengal (state)
Cuisine revolves around fish, rice and lentils.
Learn my Indian Cuisine tips
and insights on these pages
Click blue links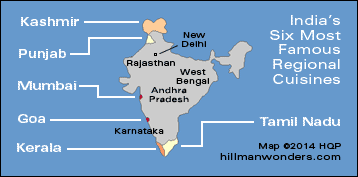 India's 6 most famous
regional cuisines
Mumbai
Kashmir
Goa
Kerala
Punjab
Tamil Nadu
Runners-up
Related pages
North vs South Indian cuisines
Indian food - Home Page
Top 10 Travel Wonders of India
Photo by Kickthebeat - CC BY 2.0

Rankings
Peasant recipes
World wonders
Also read
Site map
About me and my credentials
About my website
Reader testimonials
Email me your opinion