Darjeeling
Travel tips you can trust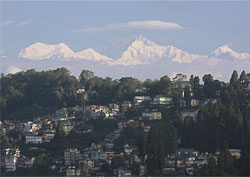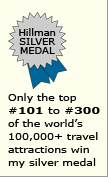 Why Darjeeling
is special
It is India's most famous and interesting Himalayan hill station. Mark Twain penned, that Darjeeling area is "The one land that all men desire to see, and having seen once-by even a glimpse would not give that glimpse for the shows of the rest of the world combined."
Top 3
Darjeeling attractions

Overall setting
The surrounding mountain vistas are captivating. So are the steep hill sides spotted with tea plantations.

Toy train
It's slim and smallish because it runs on a narrow gauge track. The famous Toy Train slowly winds, loops, and switchbacks up the 85-kilometer (53-mile) route from the lowlands to high-altitude Darjeeling. The passing landscapes are photogenic.

Tiger Hill
This observation site offers a spectacular view of Mount Kanchenjunga (see photo above). It's the world's third highest mountain. Note: You must be on Tiger Hill at sunrise on a cloud-free morning. If sky conditions are perfect, you'll also see Mount Everest.
Other major
attractions include

Himalayan Mountaineering Institute
Exhibits paraphernalia used by Hillary and Norgay on mankind's first successful ascent of Mount Everest.

Darjeeling Zoo
Focuses on wildlife in the Himalayan region. The red panda is a visitor's favorite.
More
tips & insights

How to pronounce
Darjeeling: dahr-jee-ling

When to go
The best seasons are spring (especially mid-March to mid-May) and fall (particularly late-September to October). In the summer, you could encounter heavy rains and mountain-obscuring clouds and fog. In the winter, skies are often clear, but Darjeeling is cold.

Location in India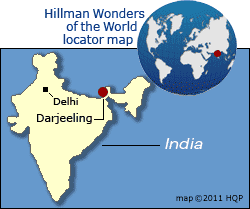 Wonders of India - Top 10 rankings
Basic Hindi phrases for travelers
Indian cuisine
Flying to India
World's Top 100 Wonders
World's Top 1000 Wonders
Site map
My credentials
About my website and criteria
Reader testimonials

World's Top 100 Wonders
World's Top 1000 Wonders
Site map
My credentials
About my website and criteria
Reader testimonials