Girnar Temples
Travel tips you can trust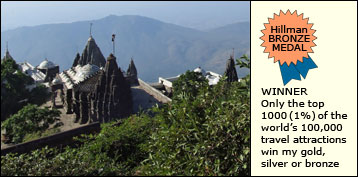 Why the
Girnar Temples
in Gujarat State
are special
They dot the holy Girnar Mountain and have been attracting pilgrims since the 3rd century. The temples and shrines are renowned for their stone and wood carvings.
Top 3
Girnar Temples
Of the hundreds of Girnar temples, these are the three most significant and interesting:

Neminath
Jain temple. Built in 1159 to honor Neminath who had attained enlightenment. The complex is large and sculpture rich.

Mallinath
Also a Jain temple dedicated to an enlightenment achiever. It's nearly 800 years old.

Ambe
Special to newlyweds who come to pray to Goddess Ambe for their marital bliss.
Reaching the
Girnar Temples

There is no road
up the mountain
Pilgrims and tourists alike must trek up the mountain on steps and paths.

Degree of difficulty
The stairs and paths are generally well maintained. However, the walking distance from the base of the mountain to the summit is roughly 3 kilometers (2 miles). And, in some places the route is steep. So don't attempt the hike unless you are physically fit. (Note: An aerial tramway is in the planning stages).
More
Girnar Temple
tips & insights

Pilgrim profile
Most are Jains, though Hindus are well represented. And there's a mosque that draws some Muslims.

Annual foot race
Participants race up the summit then dash down. Spectators cheer, urging the runners on.

Location in India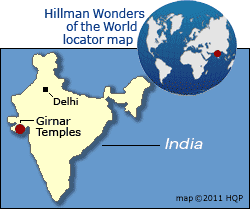 Wonders of India - Top 10 rankings
Basic Hindi phrases for travelers
Indian cuisine
Flying to India
World's Top 100 Wonders
World's Top 1000 Wonders
Site map
My credentials
About my website and criteria
Reader testimonials

World's Top 100 Wonders
World's Top 1000 Wonders
Site map
My credentials
About my website and criteria
Reader testimonials