Gomateshwara
Statue
Travel tips you can trust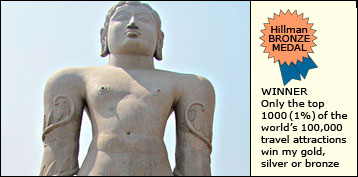 Why the
Gomateshwara Statue
in Karnataka State
is special
Although it looks like a relatively new statue and has a somewhat modern appearance, this impressive 18-meter (59-foot) high free-standing statue was sculpted more than a thousand years ago.
More
Gomateshwara Statue
tips & insights

About the subject
According to tradition, the king Gomateshwara (also known as Bahubali) renounced his kingdom and worldly possessions so he could meditate. He eventually attained nirvana and is now worshipped by numerous Jain devotees.

Clothing
There is none. The Gomateshrawa Statue is nude in keeping with the Jain religion custom.

Setting
The Gomateshrawa Statue stands on a hilltop overlooking Shravanbelagola village and distant landscapes. You must climb over 600 steps to reach the image's foot.

Mahamastakabhisheka
Festival
Milk, curds, ghee, and even gems and gold coins are poured over the statue's head. This fascinating anointment draws Jain pilgrims from afar and takes place only once every 12 years. The last one was in 2006 and the next will be in 2018.

Location in India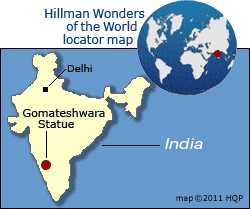 Wonders of India - Top 10 rankings
Basic Hindi phrases for travelers
Indian cuisine
Flying to India
World's Top 100 Wonders
World's Top 1000 Wonders
Site map
My credentials
About my website and criteria
Reader testimonials

World's Top 100 Wonders
World's Top 1000 Wonders
Site map
My credentials
About my website and criteria
Reader testimonials