Kanchipuram Temples
Travel tips you can trust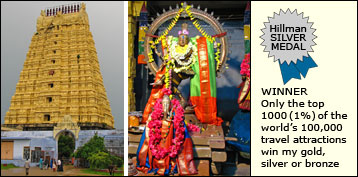 Why the
Kanchipuram Temples
are special
Kanchipuram is aptly nicknamed Temple City because it once had over 1,000. About 200 remain today. Some are famous and have elaborate carvings.
Top 7 must-see
Kanchipuram Temples
These are the seven most interesting for sophisticated travelers.
Devarajaswami
Ekambaranathar
Kailasanathar
Kamakshi Amman
Ulagalanda Perumal
Vaikuta
Varadaraja Perumal
More
Kanchipuram
tips & insights

Architectural style
Nearly all the Kanchipuram structures are built in the southern Indian Darvida style. And the temple complexes often sport a gopuram, a tall trapezoidal tower (see photo above).

Holy City
Hindus consider Kanchipuram as one of seven sacred cities of India.
(Varanasi in northeastern India is the best known among them.)

Famous product
Kanchipuram is renowned for its hand-woven fabrics and silk saris.

Location in India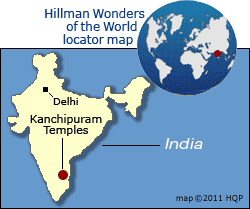 Wonders of India - Top 10 rankings
Basic Hindi phrases for travelers
Indian cuisine
Flying to India
World's Top 100 Wonders
World's Top 1000 Wonders
Site map
My credentials
About my website and criteria
Reader testimonials

World's Top 100 Wonders
World's Top 1000 Wonders
Site map
My credentials
About my website and criteria
Reader testimonials