Kerala Backwaters
Travel tips you can trust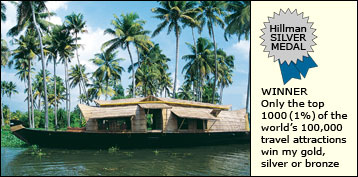 Why the
Kerala Backwaters
in India's Kochi area
are special
Imagine an enchanting labyrinth of tropical rivers, lakes and canals lined with low islands adorned with coconut palm trees, lush greenery, and small laid-back rural villages. That's the dreamy Kerala Backwaters.
Kerala Backwaters
tips & insights

How to experience them
You leisurely explore this scenic wonder Kerala Backwaters in a long-and-narrow traditional Kerala cargo boat that was converted into a luxurious tourist houseboat (see photo).
It has a thatched roof and a charming interior typically consisting of a living room and one or two bedrooms.
As your captain slowly guides you through the Kerala Backwaters, your private cook prepares interesting meals and snacks.

Cruise length
You can book for one night, a week, or more. Most visitors opt for two nights.

Vacation extensions
Many travelers stay in the Kochi area for several days before or after the cruise to take advantage of its many quality beach resorts. They, like the boats, are pleasingly priced.

When to go
For the best weather, book your boat in the mid-November to mid-February period.

Location in India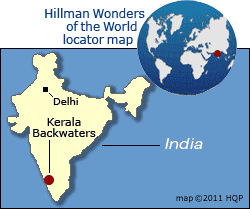 Wonders of India - Top 10 rankings
Basic Hindi phrases for travelers
Indian cuisine
Flying to India
World's Top 100 Wonders
World's Top 1000 Wonders
Site map
My credentials
About my website and criteria
Reader testimonials

World's Top 100 Wonders
World's Top 1000 Wonders
Site map
My credentials
About my website and criteria
Reader testimonials