Lakshadweep Islands
Travel tips you can trust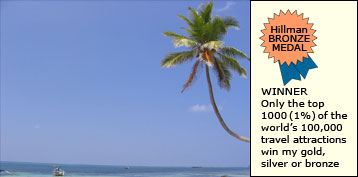 Why the
Lakshadweep Islands
are special
This remote island group off the southwestern coast of India is a true tropical-island getaway for vacationers.
Lakshadweep Islands
tips & insights

Not overrun with tourists
The Indian government severely limits visitor permits (especially to foreigners) to preserve the environment and local culture.

Main appeal
Lakshadweep is blessed with swaying coconut palm landscapes lined with pristine white beaches surrounded by crystal-clear turquoise lagoons and reefs populated with colorful tropical marine life. Snorkeling, diving, and other water sports are readily available for the active traveler.

Accommodations
Resorts are few and offer limited frilled cottages. The one on Bangaram Island provides the best lodging, service, and food - and is the only place in the islands where alcohol consumption is allowed.

When to come
Late October to mid March has the coolest, driest, and sunniest days. The ultra-tourism peak runs from mid-December to early January (book months in advance).

How to get there
Most visitors take the 75-minute, 465-kilometer (289-mile) long flight from Kochi, Kerala on the mainland to the islands' only airport, on Agatti Island. Passenger ships takes about 20 hours.

How to pronounce
Lakshadweep = lahk-shad-weep.

Location in India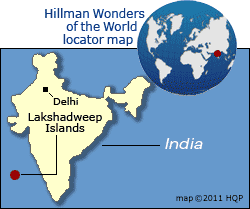 Wonders of India - Top 10 rankings
Basic Hindi phrases for travelers
Indian cuisine
Flying to India
World's Top 100 Wonders
World's Top 1000 Wonders
Site map
My credentials
About my website and criteria
Reader testimonials

World's Top 100 Wonders
World's Top 1000 Wonders
Site map
My credentials
About my website and criteria
Reader testimonials