Mahabalipuram Temples
Travel tips you can trust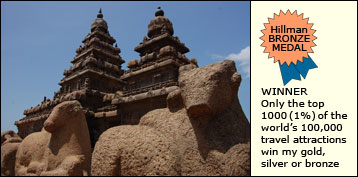 Why the
Mahabalipuram Temples
are special
This archeological site on the Bay of Bengal has an impressive variety of 7th-to-8th century Hindu monuments.
Best 3
Mahabalipuram Temples

Shore Temple see photo
It looks like one temple, but is really three (two dedicated to Shiva, the other to Vishnu). The Shore Temple's structures and sculptures are in relatively good shape considering that they have been assailed by eroding sea winds and rain for over 12 centuries - and by the ultra-tragic 2004 Indian Ocean tsunami.

Five Chariots
These free standing temples were sculpted from the same single granite mass, to which their bases remain attached. Note: They depict the massive temple-style chariot used in religious processions as opposed to the common chariot used for battle and transportation.

Large Bas Relief
The Arjuna's Penance bas relief measures 27 meters (90 feet) long and 9 meters (30 high). It relates a Hindu epic story.
More
Mahabalipuram Temples
tips & insights

Runner-up attraction
It's the Krishna Mandepam, one of the several interesting rock-cut cave temples.

Getting there
The Mahabalipuram Temples are a 90-minute drive from Chennai, the capital of the state of Tamil Nadu.

Location in India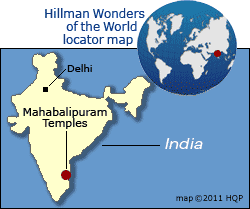 Wonders of India - Top 10 rankings
Basic Hindi phrases for travelers
Indian cuisine
Flying to India
World's Top 100 Wonders
World's Top 1000 Wonders
Site map
My credentials
About my website and criteria
Reader testimonials
Alexander Pfeiffenberger CC BY 2.0

World's Top 100 Wonders
World's Top 1000 Wonders
Site map
My credentials
About my website and criteria
Reader testimonials