Mahabodhi Temples
Travel tips you can trust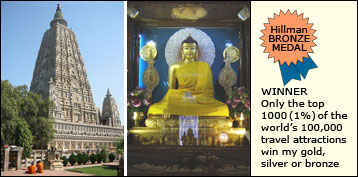 Why the
Mahabodhi Temples
are special
According to Buddhism faith, Buddha attained enlightenment here in the 6th century BC.
Top two
Mahabodhi attractions

Bodhi tree
This is the most sacred spot of the Mahabodhi temple complex because Buddha attained enlightenment while sitting under it. The current Bodhi ("enlightenment") tree is only one century old, but is a distant offshoot of the original. Its branches broadly sprawl and reach 25 meters (80 feet) in height,

Main Temple
The original was constructed in the 3rd century BC by Emperor Ashoka. It was rebuilt and made taller around the 6th century. That version gradually deteriorated and was rather creatively renovated in the 18th century. It soars 53 meters (170 feet) and is the one we view today (see photo). A gilded Buddha statue (see photo) resides inside.
Other main attractions
They include the Jewel Walk (where Buddha strolled and meditated after becoming enlightened) and the many small stupas, shrines, and monasteries in or near the temple grounds.
More
Mahabodhi
tips & insights

Dispute
Hindus believe Buddha was an incarnation of their god Vishnu and, therefore, want to worship inside the Mahabodhi temple complex. Buddhists want to prevent this from happening.

When to come
Mid-fall to mid-spring is the best period. Summer brings monsoons and high temperatures.

Location in India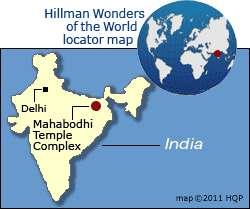 Wonders of India - Top 10 rankings
Basic Hindi phrases for travelers
Indian cuisine
Flying to India
World's Top 100 Wonders
World's Top 1000 Wonders
Site map
My credentials
About my website and criteria
Reader testimonials
Llya Mauter CC BY 3.0 right photo

World's Top 100 Wonders
World's Top 1000 Wonders
Site map
My credentials
About my website and criteria
Reader testimonials