Mysore Palace
Travel tips you can trust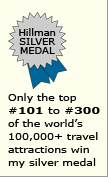 Why
Mysore Palace
is special
Its interior is awesome. And it's annual Dussehra religious festival is a magical scene.
Best 3
Mysore Palace rooms

Private audience hall
Used by the maharaja for meetings with visiting dignitaries and with his top ministers.

Wedding hall
Grand royal weddings were held here.

Public audience hall
Where the maharaja listened to the petitions of his subjects.
Other worthy attractions
They include the gold-laden elephant howdaw, Dessehra procession wall paintings, hall of dolls, and the armory.
The ten magical days
of the Dussehra Festival
As with Easter and Ramadan, the dates of the Dussehra Festival vary from year to year. But it always fall in September and/or October. Highlights:

Palace lights see photo
Tens of thousands of small bulbs light up the Mysore Palace's exterior. (If you miss the festival, remember that the lighting also takes place on Sunday and public holiday evenings throughout the year).

Musical performances
Celebrated musicians perform on a special stage on the palace grounds.

Grand procession
On the final night, you enjoy a lively parade featuring bedecked elephants, floats, and more.
More
Mysore Palace
insights

History
Four palaces were built on the site by the Wodeyar maharaja dynasty. The first was in the 14th century. It and the next two were destroyed by intent, neglect, or accident. The fourth and current one was constructed in the 20th century.

Today
The dynasty's lengthy rule ended when India attained independence in 1947. Today, Mysore Palace is a museum and no longer a royal residence.

Location in India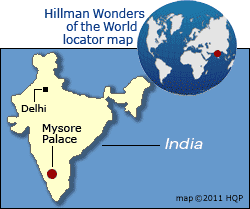 Wonders of India - Top 10 rankings
Basic Hindi phrases for travelers
Indian cuisine
Flying to India
World's Top 100 Wonders
World's Top 1000 Wonders
Site map
My credentials
About my website and criteria
Reader testimonials

World's Top 100 Wonders
World's Top 1000 Wonders
Site map
My credentials
About my website and criteria
Reader testimonials