Sikkim
Travel tips you can trust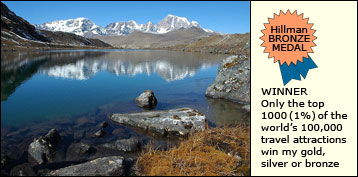 Why Sikkim
is special
It is a virtual Shangri-La with soaring Himalayan peaks, flower-rich valleys, pristine mountain lakes, mighty glaciers, cascading streams, and sacred monasteries. And its people are among the friendliest on earth.
Sikkim's
remarkable diversity

Geography
Altitude ranges from about 280 meters (920 feet) to 8586 meters (28,168 feet). The latter is for Mt. Kanchejunga, the world's third highest mountain.

Ethnicity
Many ethnic groups are represented, with Nepalese the largest. Eleven languages are spoken.

Climate
Spans subtropical (some lowland valleys) to frigid alpine.

Fauna and flora
Animals range from the humble yak to the celebrated snow leopard and red panda. Flora varies from alpine wild flowers to the famous lowland orchids.
More Sikkim
tips & insights

Size
Sikkim is relatively small, measuring 64 kilometers (40 miles) west to east and 112 kilometers (70 miles) north to south. If you flattened it out, Sikkim would double its size.

Tourism infrastructure
It's developing, but still nascent. For instance, it can sometimes be a hassle for a foreigner to get needed permits to visit certain places. And Sikkim has no airport and only about 40 kilometers (25 miles) of national highways.

When to come
Best periods are April to May and late September through October. Winters are bitterly cold. Summers suffer from the monsoon, which makes some roads impassable.

Location in India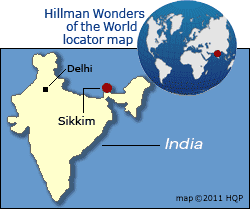 Wonders of India - Top 10 rankings
Basic Hindi phrases for travelers
Indian cuisine
Flying to India
World's Top 100 Wonders
World's Top 1000 Wonders
Site map
My credentials
About my website and criteria
Reader testimonials

World's Top 100 Wonders
World's Top 1000 Wonders
Site map
My credentials
About my website and criteria
Reader testimonials