Dead Sea
shared with Israel
and the West Bank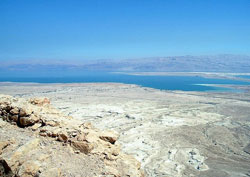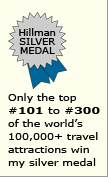 Why the
Dead Sea
is special
Its surface is the lowest in the world. The Dead Sea is also famous for its buoyancy (swimmers float easily) and therapeutic waters.
Interest
Dead Sea facts

Today, the Dead Sea is roughly 425 meters (1,400 feet) below sea level. Its deepest underwater point lies another 330 meters (1,080 feet) down.

The water level is dropping about a foot per year, mainly due to evaporation as well as commercial usage.

Thia lowering is shrinking the Dead Sea. A century ago it stretched over 135 kilometers (85 miles). Today, it's under 65 kilometers (40 miles). Some predict a near-dry-up by 2050.

The water has one of the world's highest concentration of salts and other minerals. The deeper the water, the higher that concentration.

No fish or other animal can survive in the water (though bacteria and algae can).

Average annual rainfall is less than 100 mm (4 inches) in the north and 50 mm (2 inches) in the south.
More Dead Sea
tips & insights

Mountains
The Jordan side of the Dead Sea has higher mountains, providing spectacular panoramic views of the Dead Sea. Sunsets are particularly grand.

Day trip
The Dead Sea is approximately 40 minutes by road from Amman, the capital of Jordan.

Madaba
Relatively nearby are the Madaba Mosaics , another Hillman Wonder. It's celebrated for its Byzantine and Umayyad mosaics.

For more pointers...
Read my Dead Sea web page in my Wonders of Israel guide.

Dead Sea - Israel

Location in Jordan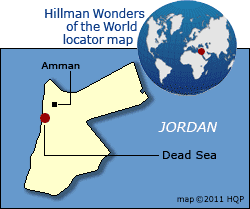 Know these Jordan tips and insights
Jordan medal winners
Dead Sea
Desert Castles
Jerash
Petra
Wadi Rum
Rankings
Top 3 Jordan Wonders
Photo by Don Lingle - CC BY 2.0

World's Top 100 Wonders
World's Top 1000 Wonders
Site map
My credentials
About my website and criteria
Reader testimonials