Philippine
facts & tidbits
page 2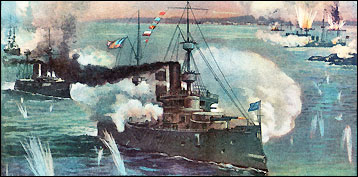 Philippine history
in brief

First inhabitants
Humans from the Malayan Peninsula settled parts of the Philippine Islands at least 30,000 years ago.

Europeans
The first to set foot on the islands were the explorer Ferdinand Magellan and his crew in 1521. Some people erroneously believe that Magellan was the first to circle the globe. He was killed by the native chief Lapu Lapu six weeks after he landed in the Philippines. It was Magellan's crew who completed the historic journey.

Spanish colonial period
It spanned over three centuries. Native uprisings occurred periodically.

Battle of Manila see painting above
The Spanish colonial rule ended in 1898, with the help of the American navy, which defeated the Spanish fleet in the famous Battle of Manila.

American colonial period
Spain sold the Philippines to the USA in 1898 for 20 million US dollars. American control lasted virtually a half-century, not without protests. During that time, the Japanese invaded the Philippines in 1941, but were defeated by the Americans and Filipinos several years later.

Philippine independence
In 1946, America relinquished its sovereignty, and the Philippines became an independent nation.
Learn More

for Philippine facts - Page 1
Learn my other
Philippine tips and insights
Top 7 Philippine Wonders
Philippine wonder map
Philippine wonder photo gallery
Best time to visit Manila
Banaue Rice Terraces
Chocolate Hills
Mayon Volcano
Pamalican Island
Taal Volcano
Tubbataha Reef
Underground River
Honorable mentions
Batad & Bangaan terraces
Banaue Rice Terraces photo gallery
Banaue Festival photo gallery
Country facts & tidbits
Learn Filipino/Tagalog phrases
Philippine cuisine
Painting by Murat Halstead - PD
Philippine Department of Tourism
WOW Philippines

World's Top 100 Wonders
World's Top 1000 Wonders
Site map
My credentials
About my website and criteria
Reader testimonials