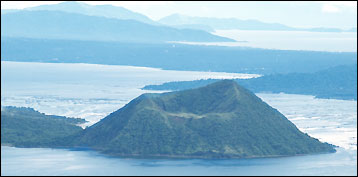 More
Taal Volcano
tips and insights

Eruptions
The Taal volcanic system erupted 33 times since 1572. That's an average over the past several centuries of one per decade.
The last major discharge occurred in 1965, claiming about 200 lives. Over a thousand people lost their lives during a 1911 event.
Taal has been quiet since 1977, though volcanologists and their instruments are now witnessing some early signs of resurgence.

Small and active
The small volcano in the lake (see photo) is one of the smallest active volcanoes on the earth.

Geology
Taal Volcano once towered 11,000 kilometers (18,000 feet). Over time, its sides gradually collapsed, creating a caldera 30 kilometers (18 miles) in diameter. Although the caldera's rim today is 600 meters (2,000 feet) high, it is only a small fraction as tall as the original volcanic peak.
Learn More

for Taal Volcano - Page 1
Learn my other
Philippine tips and insights
Top 7 Philippine Wonders
Philippine wonder map
Philippine wonder photo gallery
Best time to visit Manila
Banaue Rice Terraces
Chocolate Hills
Mayon Volcano
Pamalican Island
Taal Volcano
Tubbataha Reef
Underground River
Honorable mentions
Batad & Bangaan terraces
Banaue Rice Terraces photo gallery
Banaue Festival photo gallery
Country facts & tidbits
Learn Filipino/Tagalog phrases
Philippine cuisine
Photo by Roberto Verzo - CC BY-SA 2.0
Philippine Department of Tourism
WOW Philippines

World's Top 100 Wonders
World's Top 1000 Wonders
Site map
My credentials
About my website and criteria
Reader testimonials