Santorini tips
pointers you can trust
Two definitions

Name confusion
"Santorini" defines the group name of all the islands you see on the map above. It is also the name used to identify the largest of those islands.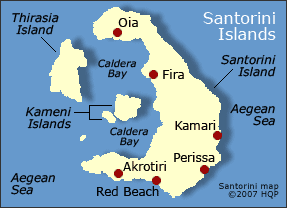 Kameni Islands

They are islets
They sit near the middle of Caldera Bay (see map).

Nea (new) Kameni
It finally reached above water about 300 years ago. Nea Kameni last erupted in the 1950s and remains modestly active with rising sulfuric steam plumes. You can take a tour to that islet and walk on its lunar-like terrain.

Palia (old) Kameni
This islet is about two millennia old. You can visit Palia Kameni and take a mud bath heated by underground volcanic activity.
Akrotini

Archaeological site
This is a popular tourist attraction in southern Santorini. A visitor path takes you through the partially restored ruins of a town that was buried under ash by the famous volcanic eruption of 3600 years ago. Excavations began in the 1960s.
Santorini beaches

Main Ones
See map for the beach locations.

Red Beach
It's the most stunning. The site is back dropped with high reddish cliffs.

Perissa and Kamari
The beaches of these two sea resort areas are popular with tourists. Be aware that their black volcanic sands (though visually interesting) readily absorb solar rays. That's why they can get foot-burning hot under a blazing midday sun.
Learn More

for Santorini tips - Page 2
Santorini overview
Volcano - Brief history
Accommodation tips
Know my other
Greece tips and insights
Greece wonders - Top 10 rankings
Greece wonder map
Basic Greek phrases for travelers
Greek cuisine

World's Top 100 Wonders
World's Top 1000 Wonders
Site map
My credentials
About my website and criteria
Reader testimonials