Charles Bridge
tips you can trust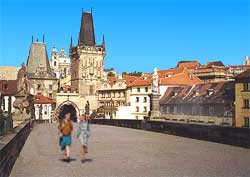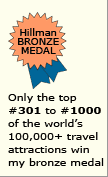 Why the
Charles Bridge
is special
It is Prague's oldest (14th Century), best preserved and most beloved bridge - and has become a city icon and a world famous gathering spot.
---
Charles Bridge
tips & insights
---
Ambiance
On fair weather middays, thousands of tourists, street musicians and artists, and souvenir hawkers pack the cobbled road from one end of Charles Bridge to the other. This creates a fun, carnival-like atmosphere. For a completely different ambiance, go when Charles Bridge is practically empty. Best times are in the early morning (when the mist glides down the river) and in the evening (when Prague Castle and other old edifices are romantically illuminated).
---
For pedestrian use only
Today, Charles Bridge is strictly for foot traffic. However, in the past, horses, carriages, trams and cars would cross the bridge.
---
Towers
Steep roofed fortified towers guard both ends of the structure. The single tower on the Old Town side is considered one of Europe's greatest Gothic architectural masterpieces. The other end has two towers (see photo). The shorter one on the left was erected in the 13th century and is a leftover from the original Judith Bridge. The taller one was put up about 200 years later.
---
Clickable
wonder map
---
---
Learn more Charles Bridge tips ...

---

Learn about all the Czech wonders ...

Czech Republic wonders - Top 5 rankings
---

---