Best Big Island
shore excursions
Cruise tips you can trust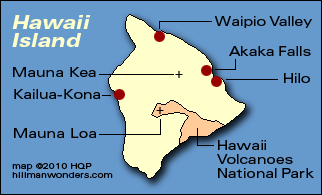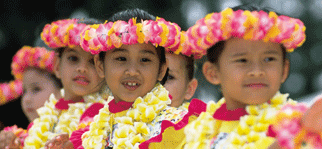 Note: The Big Island is officially named "Hawaiii Island". To avoid confusing the latter name with "Hawaiian Islands", most locals and visitors perfer to call the island by its nickname, "The Big Island" (which refers to the island's size).
Best 2
Big Island shore excursions

Hawaii Volcanoes National Park
It is by far the #1 shore excursion on the Big Island.
The park is home to the world's most active volcano, Kilauea.
Tips & insights:

Live lava flows
These rivers and fountains of molten rock are the sightseeing highlight for most travelers. Try to view them at dusk because daylight visually subdues their intense reddish glow.

Caldera drive
If you're pressed for time, at least take the 11-mile Caldera Drive. Stop at its Crater Overlook for a distant view of the massive Mauna Loa and a nearby view of the smaller but striking Halema'uma'u Crater. The Thurston Lava Tube is another interesting attraction along the route.

Heli-seeing
Take a helicopter sightseeing tour for bird's-eye views Mauna Loa and Mauna Kea, the Big Island's two tallest volcanoes.
Other major
Big Island
shore excursions

Akaka Falls
143 meters (432 feet) high.

Waipio Valley
Hike or horseback through it.

Kono coffee plantations
Beans are celebrated internationally.

Macadamia nut plantations
One of the world's finest nuts.

Deep sea fishing
Kona Coast waters are game-fish rich.
Click button for more
Big Island tips


Best shore excursions on ...
Big Island
Kauai
Maui
Molokai
Oahu
Other helpful pages
Best Hawaiian cruise lines
Best itinerary options
Interesting facts
Tips & insights
Hawaiian Tourism Authority / Joe Salem
Hawaii Visitors & Convention Bureau

World's Top 100 Wonders
World's Top 1000 Wonders
Site map
My credentials
About my website and criteria
Reader testimonials