More
Hawaiian cruise
tips & insights
Cruise tips you can trust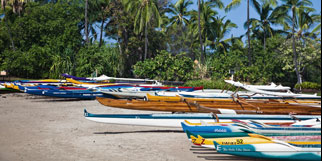 Helpful
Hawaiian cruise
pointers

Getting there by air
Major airlines serving Hawaii include Air Canada, Air New Zealand, Alaska Airlines, American Airlines, ANA, China Airlines, Continental Airlines, and Delta Airlines.

Getting around
Renting a car is the most rewarding way to explore most islands. This is especially true for Oahu, Maui, and the Big Island.

Avoiding tour-bus crowds
Visit highly popular attractions before mid-morning or in the late afternoon.

Hawaiian climate
The Hawaiian Islands are blessed with balmy year-round temperatures. But there are some factors to take into account:

Summer vs. winter
Summer runs from April through November, with temperatures averaging 27ºF (80ºF). Winter stretches from December through March, with temperatures averaging about 24ºC (76ºF).

Rain
It rains more in the winter, but brief tropical downpours can occur (usually around noon) any time of the year. Then the sun rules the daytime sky again.

Medical issue
If your cruise ship will be sailing between Hawaii and the North American coast, and you have a serious health condition that could possibly require an emergency helicopter evacuation to a land hospital, then be aware:
There will be nothing between the islands and the coast except the ocean. You'll be out of helicopter reach for several days.

Best shore excursions on ...
Big Island
Kauai
Maui
Molokai
Oahu
Other helpful pages
Best Hawaiian cruise lines
Best itinerary options
Interesting facts
Tips & insights
Hawaii tourism Authority / Tor Johnson
Hawaii Visitors & Convention Bureau

World's Top 100 Wonders
World's Top 1000 Wonders
Site map
My credentials
About my website and criteria
Reader testimonials