Sistine Chapel
tips you can trust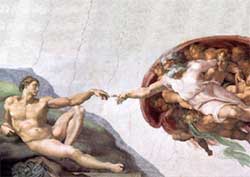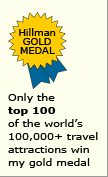 Why the
Sistine Chapel
is special
The Sistine Chapel in Vatican City contains two of the world's most celebrated frescoes, "Genesis" and "The Last Judgment".
---
Michelangelo
masterpieces
---
Genesis
The first is a set of Genesis-themed frescoes painted on the Sistine Chapel's high vaulted ceiling by the then young Michelangelo. He began the project in 1508 and finished four years later. His best known Genesis ceiling fresco depicts God creating Adam (see photo).
---
Last Judgment
Two decades later, Michelangelo painted "The Last Judgment" on the large wall behind the altar. It took him six years (1535-1541) to complete it.
---
More
Sistine Chapel
tips & insights
---
Name
The Sistine Chapel was named for its 15th century benefactor, Pope Sixtus IV.
---
Botticelli
Michelangelo's works are not the only treasured frescoes in the Sistine Chapel. One is Botticelli's "Temptations of Christ", a masterpiece.
---
No direct entrance
for visitors
The only way a tourist can reach the Sistine Chapel is through the Vatican Museums (which, is a Hillman Wonder Silver Medal winner).
---
Where popes
are chosen
The Sistine Chapel is more than an art lover's paradise. It's the room where cardinals from around the world convene to elect new popes.
---

St Peter's Basilica
Vatican Museums
St Peters Square
Vatican Museums after hours tour

Vatican wonders - Top 4 rankings
Vatican attractions - Overview
Italy wonders - Top 10 rankings
World's Top 100 Wonders
World's Top 1000 Wonders
Site map
---