Vatican attractions
overview
Travel tips you can trust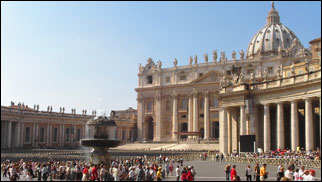 Why
the Vatican
is special
It is the world headquarters of the Roman Catholic Church - and has earned two gold, one silver, and one bronze Hillman Wonders medals.
Top 4
Vatican attractions

St Peter's Basilica

Artistically and architecturally, the Basilica of St. Peter's is a masterpiece. And it's the central church to one billion Roman Catholics.
Click St. Peter's Basilica to learn more.

Sistine Chapel

This relatively large chapel houses Michelangelo's world famous frescos: "Genesis" and "The Last Judgment". The Sistine Chapel is also renowned as being the venue where popes are chosen.
Click Sistine Chapel to learn more.

Vatican Museums

The sprawling network of galleries collectively called the Vatican Museums is home to many artwork masterpieces and historical documents, including from ancient Egypt and the Renaissance.
Click Vatican Museums to learn more.

St Peters Square

This immense open space is the public entranceway to the Vatican City - and is sometimes packed with a half million people. St. Peter's Square is impressively flanked by Bernini's 17th century classical colonnades - and is centered by an Egyptian obelisk.
Learn More

for next Vatican Overview page
Know my other
Vatican tips and insights
Vatican Overview
Vatican Overview - Page 2
St Peter's Basilica
Sistine Chapel
Vatican Museums
Vatican Museums after hours tour
St Peters Square
Vatican Wonders - Top 4 rankings
s

World's Top 100 Wonders
World's Top 1000 Wonders
Site map
My credentials
About my website and criteria
Reader testimonials