Vatican Museums
after hours tour
Travel tips you can trust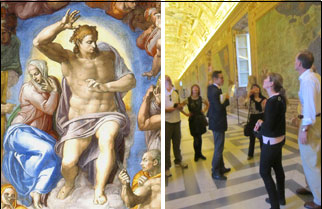 Several companies conduct tiny-group-sized after hours Vatican Museum tours that start soon after all daytime visitors are ushered out the door.
My research indicated that the Italy With Us tour scored high in both press and social media reviews, so I chose its tour. Glad I did.
There were only 9 people in my tour group, though the number varies by demand. Here's a summary of what I experienced.

Highlight
We had the rare opportunity to spend nearly a half hour in a virtually empty Sistine Chapel. When our after-hours group entered, it was empty.

Other highlights
Our private time in the most celebrated Raphael Room was mesmerizing. Our small group was there alone.
We also enjoyed viewing more than a dozen other select rooms featuring masterpieces by famous painters and sculptors, including Botticelli, Caravaggio and Giotto. With so few people around, it was almost like being in a sumptuous private drawing room.

Guide quality
Our guide James was knowledgeable about the art and relished sharing his insights with us.

Tour length
It lasted two hours, from 6 to 8 pm, just the right length.

Tour costs
It's pricey (several hundred US dollars per person), but the experience is priceless. If you adore classic art, don't miss this tour if you can afford it.
Don't blame your tour organization for the hefty price. A large share goes to the Vatican to cover the expense of keeping the museum complex open for the special evening tours.

Website
Click Italy With Us to go directly to its website for more information about its Vacation Museums after-hour tour.
Know my other
Vatican tips and insights
Vatican Overview
Vatican Overview - Page 2
St Peter's Basilica
Sistine Chapel
Vatican Museums
Vatican Museums after hours tour
St Peters Square
Vatican Wonders - Top 4 rankings

World's Top 100 Wonders
World's Top 1000 Wonders
Site map
My credentials
About my website and criteria
Reader testimonials