Vatican Museums
tips you can trust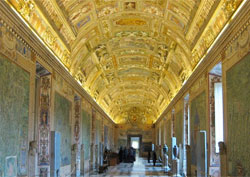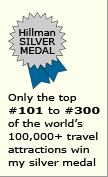 Vatican Museums'
top 2 rooms
These venues are the brightest stars:

Sistine Chapel

for my web page.

Raphael Rooms
They comprise four marvelous fresco-filled rooms by Raphael and his assistants.
Some of the hundreds of celebrated art works not in the Sistine Chapel and Raphael Rooms include

Caravaggio's Deposition

Fra Angelico's 16th century frescoes

Giotto's Stefaneschi Triptych

Leonardo da Vinci's St. Jerome.
---
Sistine Chapel
Although the Sistine Chapel is technically not a part of the Vatican Museums, from the tourist perspective, it is part of the Vatican Museums. Doors link these two landmarks. Your Vatican Museums admission ticket gets you into the Sistine Chapel.
---
Visitor tips & insights
You can visit the Vatican Museums along with the Sistine Chapel during the day on your own or as part of a tour.
Unfortunately, this museum complex attracts 4 million visitors per year. This creates long admission lines. And, once inside, the galleries and Sistine Chapel can be terribly crowded with tourists.
It's wise to purchase your tickets online ahead of time. And book the period that allows you to be one of the first to enter in the morning. Crowds should be somewhat thinner then.
---
Best way to avoid the crowds
Book a special evening tour that limits the visitor count to a precious few. Click After hours tour to learn more.
---

St Peter's Basilica
Sistine Chapel
St Peters Square
Vatican Museums after hours tour

Vatican wonders - Top 4 rankings
Vatican attractions - Overview
Italy wonders - Top 10 rankings
World's Top 100 Wonders
World's Top 1000 Wonders
Site map
---