Top 10
Caribbean cruise
shore excursions
rankings #1 to 5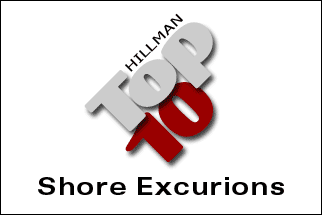 The ten best shore excursions
of the Caribbean Islands await you.

Sunbathing and beachcombing
There's hardly a Caribbean island that doesn't have a beautiful beach. They are collectively the prime reason visitors come to the islands - and cruise ships offer shore excursions to them.

Snorkeling and diving
You find great reefs on many of the islands. Some cruise ships stock snorkeling equipment. If yours doesn't and you didn't bring yours, there are snorkeling and dive shops ashore.

Carnival of Trinidad Trinidad & Tobago
It's one of the world's most exciting and energetic carnivals. Your cruise ship must be in the port during the days preceding Lent.

El Morro Puerto Rico
This mighty, photogenic, thick-walled fortress once stood guard against pirate ships and hostile foreign fleets. El Morro is next to Old San Juan, another must-see attraction.

The Baths British Virgin Islands
Giant boulders shape a striking rock formation along a beach. They fit snugly together, creating cave-like passageways that you can walk, climb, swim, snorkel, and kayak through.
CLICK HERE
for rankings #






Best Caribbean cruise lines
22 cruise lines - Insights and links
Top 10 Caribbean islands
Best time to go
Top 10 shore excursion rankings
Itineraries - Routes & maps
Itineraries - Issues
Pronounce island names - East
Pronounce island names - West
Packing tips
More cruise tips & insights
Caribbean cruise facts & tidbits

World's Top 100 Wonders
World's Top 1000 Wonders
Site map
My credentials
About my website and criteria
Reader testimonials