Colloseum of Rome
History in Brief
Italy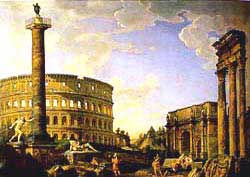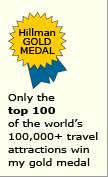 The fascinating
and long history of the
Colloseum of Rome
A quick tour through its lifetime:

1st century AD
The great fire of 64 AD burns down the buildings in the area that Colloseum of Rome will later occupy.
Emperor Vespasian commissions the Colloseum of Rome in 72 AD as an entertainment center for his subjects.
His son, Emperor Titus, opens the nearly completed Colloseum of Rome in 80 AD with 100 consecutive days of public events, including bloody gladiator fights and non-gory theatrical productions.

3rd century AD
The Colloseum of Rome is restored after being heavily damaged by a lightning-caused fire.

5th century AD
Emperor Honorius outlaws in 404 AD the Colloseum of Rome's gladiator death duels.
The Western Roman Empire falls to the Goths in 476 AD and the spectacles at the Colloseum of Rome cease.

Middle Ages
During this period (476 to 1453 AD) the Colloseum of Rome deteriorates.

16th century AD
Local construction firms quarry some of the large Colloseum of Rome stone building blocks for use in other sites, including St. Peter's Basilica.

19th century AD
The popes champion the restoration of the Colloseum of Rome, preserving it for future generations.

Click blue links below
to learn more about the
Colosseum of Rome
Coliseum of Rome - Main page
Colloseum of Rome - Interesting tidbits
Read my other Italy pages
Wonders of Italy - Complete list
Italy wonder map
Basic Italian phrases
Italian cuisine
Best time to visit Rome

World's Top 100 Wonders
World's Top 1000 Wonders
Site map
My credentials
About my website and criteria
Reader testimonials