Top 10 Italian
food regions
Food tips you can trust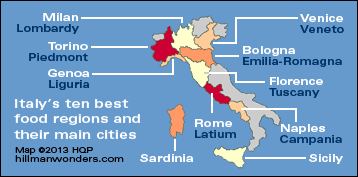 Italy's top 10
cuisine regions
and their main cities
Click blue links for descriptions

Emilia Romagna

Bologna


Tuscany

Florence


Latium

Rome


Lombard

Milan


Piedmont

Torino


Veneto

Venice


Campania

Naples


Sicily

Palermo


Sardinia

Cagliari


Liguria

Genoa
A famous food
from each Italian
cuisine region
Put these foods on your must-eat list

Ragu
Emalia-Romagne

Bologna
Pork is the chief meat ingredient in the renowned Ragu sauce. This thick, rich, and complex tomato sauce is ideally suited for pasta. Ragu is often called "Bolognese sauce", named after the region's leading city.

Bistecca alla Fiorentina
Tuscany

Florence
A thick, choice steak cut from the local Chianina cattle, charcoal broiled and flavored with olive oil, salt and pepper.

Fettuccine al Burro
Latium

Rome
Also known as Fettuccine Alfredo or alla Romana. Flat ribbon-shaped pasta is tossed, generally, with cream, butter and cheese, then given a good sprinkling of freshly ground peppercorns

Osso Buco
Lombard

Milan
A veal shank braised with tomato, onion, stock and wine, then topped with Gremolata, a garnish made with parsley, garlic and lemon rind. The choicest morsel in Osso Buco ("hole in bone") is the cooked marrow clinging to the hollow of the bone.

Fonduta
Piedmont

Torino
It's made by melting Fontina cheese (from the neighboring Val d'Aosta region) with milk, butter and eggs. The cook tops the resulting "fondue" with sliced white truffles.

Fegato alla Veneziana
Veneto

Venice
Though meat dishes are a minority in Venice, one is world famous: Fegato alla Veneziana, tissue-thin calves' liver slices sauteed with onions.

Calzone
Campania

Naples
Deep-fried, crescent-shaped dough stuffed (usually) with ham-flecked mozzarella cheese.

Caponata
Sicily

Palermo
Chopped vegetables such as eggplant (the most essential ingredient), tomatoes, onions, green peppers, olives, and celery individually cooked in olive oil, then combined.

Carta de Musica
Sardinia

Caglieri
Literally, music paper. It's a thin, crisp, circular flatbread. Also called pane carasau by inlanders and pane fresa by coastal denizens.

Pesto
Liguria

Genoa
The region of Liguria is the birthplace of pesto, that fragrant, thick, green sauce that is now prepared by cooks around the world. Pesto is made by pounding its ingredients together with a pestle (hence, the name) in a mortar. The essential ingredients are basil, garlic, Parmesan and Sardinian ewe's milk cheeses, along with pine nuts and olive oil.
Does "Italian cuisine" exist?
Italian cuisine is only a generalized concept embracing the country's 20 distinct regional cuisines. Each area has it own cooking style and personality. To truly know Italian cuisine, you must know its regional cuisines.
Learn about
Italian cuisine regions
Italian culinary regions
Campania and its Naples
Emilia Romagna and its Bologna
Latium and its Rome
Liguria and its Genoa
Lombard and its Milan
Piedmont and its Torino
Sardinia
Sicily
Tuscany and its Florence
Veneto and its Venice
Plus some other regions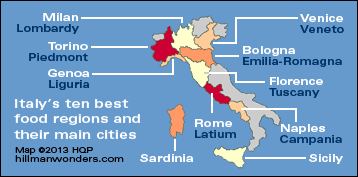 Also read
Italian cuisine - Home page
Top 10 Italy travel wonders
Italian Government Tourist Board

Rankings
Peasant recipes
World wonders
Also read
Site map
About me and my credentials
About my website
Reader testimonials
Email me your opinion