Famous Tuscany
and Florence food
Food tips you can trust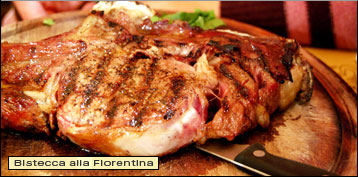 Famous specialties
of Tuscany and Florence

Bistecca alla Fiorentina
A thick, choice steak cut from the local Chianina cattle, charcoal broiled and flavored with olive oil, salt and pepper.

Cenci
A crisp, deep-fried sweet pastry lightly dusted with sugar.

Fagioli al fiasco
Beans are charcoal simmered in an empty Chianti wine flask with water, olive oil and garlic.

Trippa alla Fiorentina
Simmered tripe cut into strips and cooked in a casserole with tomato sauce, sprinkled with grated Parmesan cheese.

Wines of Tuscany
Tuscany is the home of the world-famous, ruby-red Chianti wine which can be mediocre or very good. For the latter, you will be on a right course if you look for Chianti Classico, identified by the black rooster insignia on the neck of a bottle without a straw covering.
Cooking style
of Tuscany

Uncomplicated
The homeland of the ancient Etruscans offers simple, straightforward food without many embellishments.
Learn More

for next Tuscany food page
Also learn about these
Italian culinary regions
and their famous dishes
Italian culinary regions
Campania and its Naples
Emilia Romagna and its Bologna
Latium and its Rome
Liguria and its Genoa
Lombard and its Milan
Piedmont and its Torino
Sardinia
Sicily
Tuscany and its Florence
Veneto and its Venice
Plus some other regions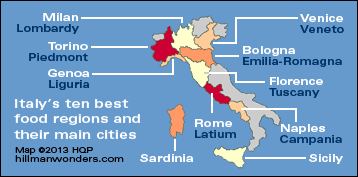 Also read
Italian cuisine - Home page
Top 10 Italy travel wonders
Italian Government Tourist Board

Rankings
Peasant recipes
World wonders
Also read
Site map
About me and my credentials
About my website
Reader testimonials
Email me your opinion