Famous Veneto
and Venice food
Food tips you can trust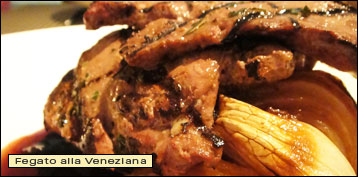 Most famous dish
of Veneto and Venice


Fegato alla Veneziana
Though meat dishes are a minority in Venice, one is world famous: Fegato alla Veneziana, tissue-thin calves' liver slices sauteed with onions.
Seafood

Adriatic Sea
The principal source of animal protein comes from the seafood caught in the cool northern Adriatic Sea.

Scampo
The Adriatic waters exclusively yield one of the world's greatest culinary delights, the scampo. When seen on American menus, "scampi" (plural of scampo) almost invariably means oversized shrimp (not the true scampo). Moreover, they lack the delicate, sweet flavor of the genuine crustacean species.

More Neptune stars
Other excellent local seafood worth sampling includes shrimp, crayfish, cuttlefish, mussels, eel, sole and mullet.
Major starch staples
of Venice and Veneto

Rice reigns
Rice, not pasta, is the principal starch staple of Venice and is typically served combined with other ingredients. The most splendid application is in the vegetable dish Risi e Bisi, literally Rice and Peas.

Polenta
Outside Venice, in the Veneto region, the firm cornmeal-mush specialty, polenta, rivals and in some places supplants rice as the primary starch staple.

Pasta
Pasta, though in the third place in the starch popularity poll, has over the last century been steadily increasing its share of the market.
Learn More

for next Veneto/Venice page
Also learn about these
Italian culinary regions
and their famous dishes
Italian culinary regions
Campania and its Naples
Emilia Romagna and its Bologna
Latium and its Rome
Liguria and its Genoa
Lombard and its Milan
Piedmont and its Torino
Sardinia
Sicily
Tuscany and its Florence
Veneto and its Venice
Plus some other regions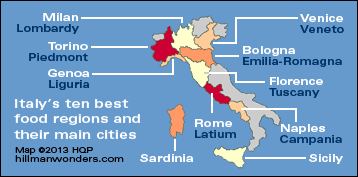 Also read
Italian cuisine - Home page
Top 10 Italy travel wonders
Italian Government Tourist Board

Rankings
Peasant recipes
World wonders
Also read
Site map
About me and my credentials
About my website
Reader testimonials
Email me your opinion